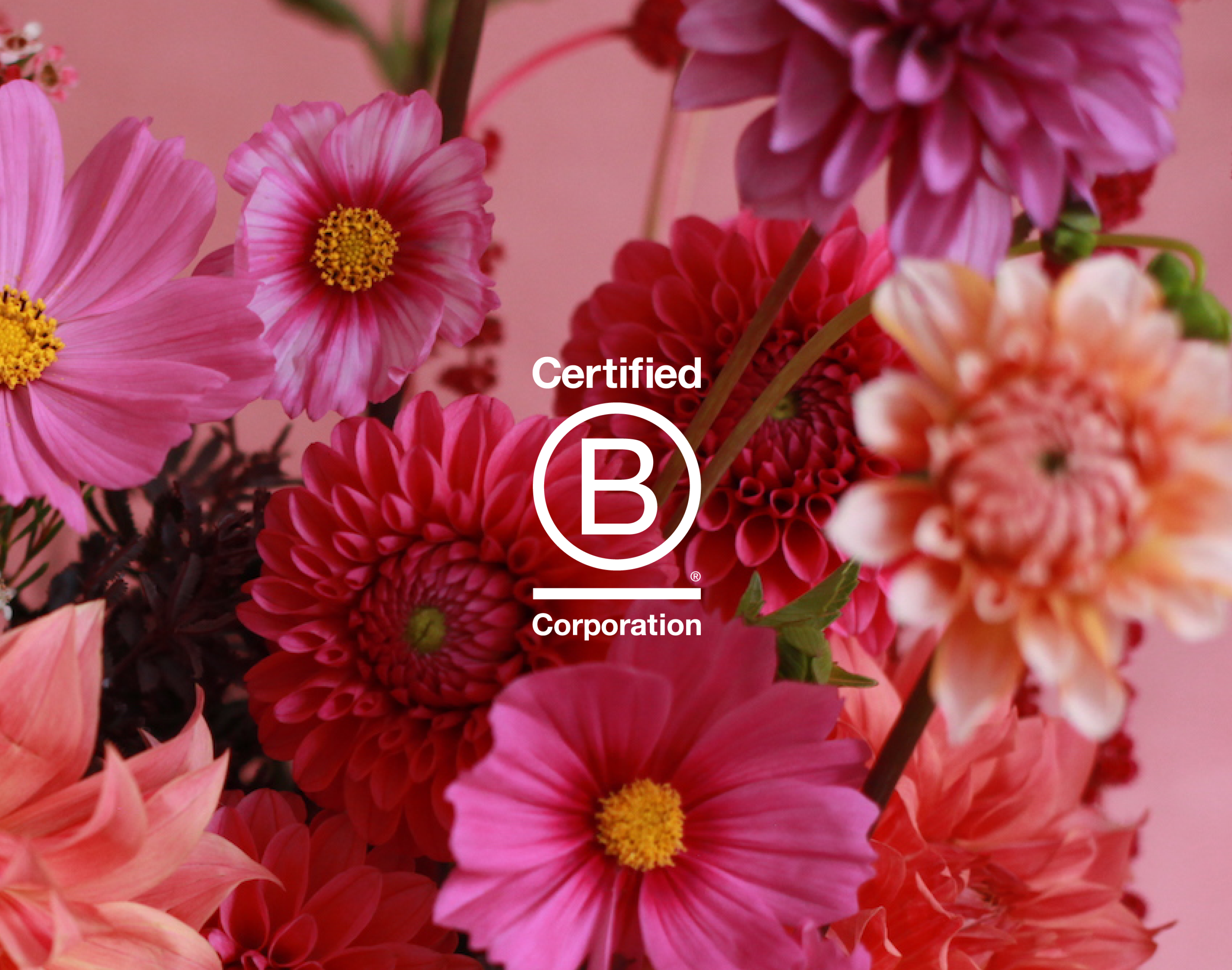 our impact
Florada is a force for good™
We recently measured our impact and have become a B Corporation—we're part of a global community of businesses that meet high standards of social and environmental impact.
We are committed to reducing our impact
Florada was set up in 2020 and became B Corp Certified in 2023. 
Florada was founded to provide a low-waste florist service to Sydneysiders, and to solve some problems we could see within the cut flower industry—an industry that is solely focussed on the wonders of nature, yet increasingly damaging to the environment, and our health, globally. The worst part about it is the lack of knowledge of the social and environmental impacts of this multi-billion dollar industry.
Unfortunately modern day floristry is increasingly damaging to the environment, globally. There are many outdated industry practices that are in serious need of improvement. Our business has been set up to try and tackle some of the issues, and to educate others, because knowledge is the key to change. We are ambassadors for change and part of the global 'slow flower movement'.
We are committed to minimising our impact on the environment, to providing less damaging floral service to our local community, and working towards positive change in the cut flower industry. 
How do we do it?
We source 100% of our flowers from local and independent Australian flower farms, and at least 50% from farms within 100kms of our business location. We serve our local community and our daily flower delivery services is within a 20km radius of our studio-base. This commitment results in a reduction of carbon emissions, toxic chemicals and biosecurity risks compared to imported flowers. More information on the negative impacts of imported flowers can be found on our blog. 

We continue to build relationships with Australian flower farmers whose practices align with our commitment to operate more sustainably. One of our biggest flower growers, for example, is located an hour outside of Sydney and does not use plastic sleeves - this helps us eliminate waste and supports our regenerative practices in our supply chain.

We carefully consider our floral designs for large-scale events and use modern floral mechanic techniques, that utilise reusable materials and vessels (often reclaimed), and avoid toxic products such as floral-foam or floral oasis. 

 We ensure our waste is managed responsibly:
Green waste is separated and composted

Compostable bags and paper are used for wet-packing flowers

Recycled silk ribbon is used in place of polyester ribbons

Soft plastics are collected and taken to local recycling facilities

No additional single-use plastic is used in the packaging of Florada's gift bouquets or floral designs
We do not claim to be perfect, but we constantly research, review and improve our practices and procedures in support of the global movement towards a more sustainable and cyclical future. We try to live by the mantra "when you know better, you do better".
Code of Ethics
Our core value is to work in ways that result in the lowest possible environmental impact that we are able to reach within our means, to educate, share our knowledge influence others on positive change, and to constantly make improvements as we grow—we see the company's growth as an opportunity to improve, putting people and the planet before profit.
We aim to educate consumers on the positive and negative impacts within the cut flower industry, provide transparency on the choices currently available to them, and to offer a less-harmful floral design service alternative to our local community.
We hope to be recognised as a leader in our field—in the fight against climate change—and to use our platform to promote localisation, and a circular local economy. We hope to bring not only joy to people through flowers, but to also educate. We take this responsibility seriously and go beyond the role of a traditional florist.
Florada acknowledges and pays respect to past, present and future Traditional Custodians and Elders of this nation, the Gadigal people of the Eora nation—the land on which we work and live, and to the continuation of cultural, spiritual and educational practices of Aboriginal and Torres Strait Islander peoples.
We welcome diversity, respect people from all backgrounds and do not discriminate.
We remain respectful and considerate to others, clients, employees, suppliers and associates alike.