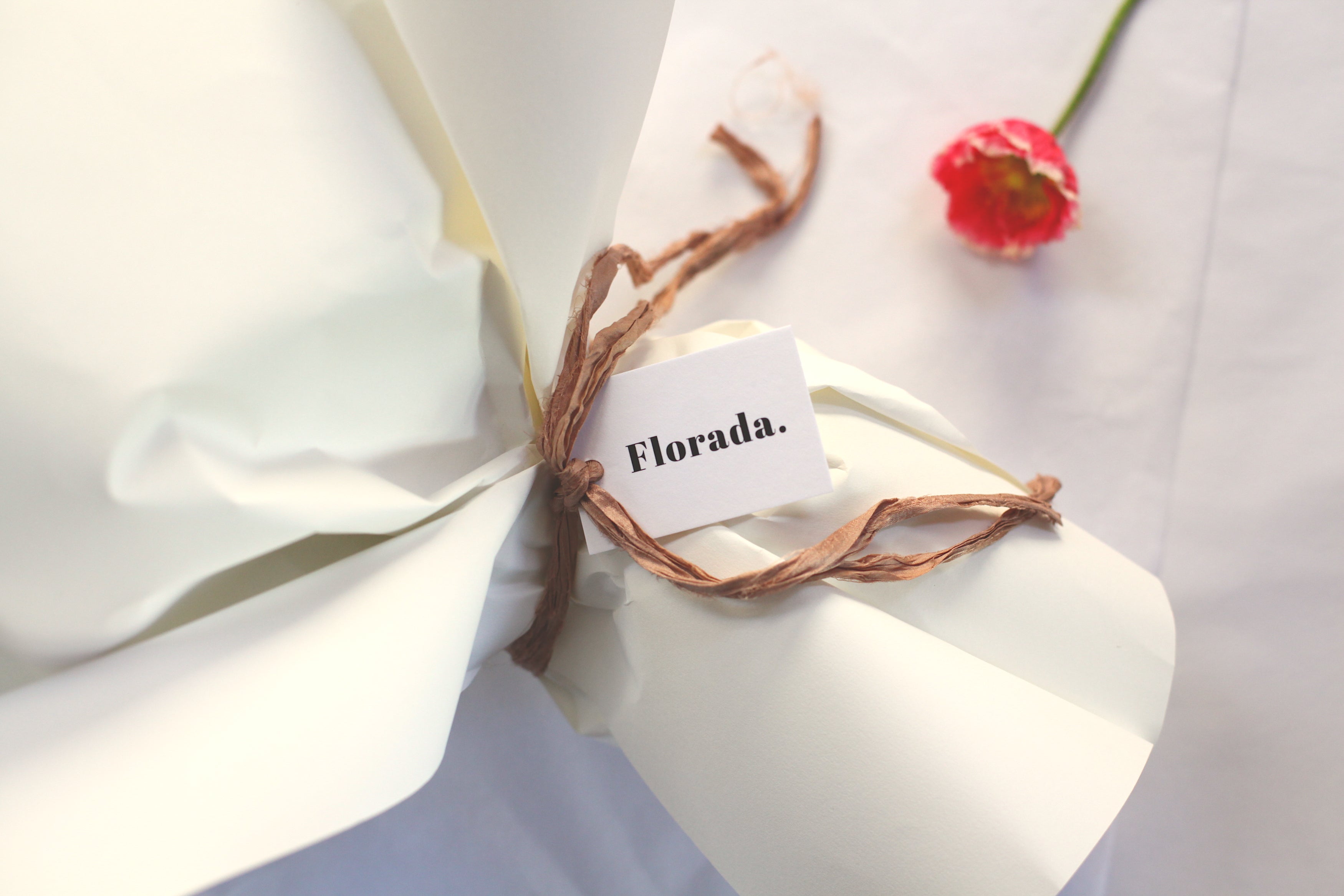 Gifting, without the garbage.
Flowers are transient, so we make sure our packaging is too!
journal
After watching War on Waste in 2017, my journey towards a less wasteful life began. I started reducing waste at home and work, inspired by the show. I composted, had a...
As seen in
Florada's beautiful blooms will inspire you to broaden the horizons of your environmental consciousness.
FAQ

What suburbs do you deliver to?

We stick to a 20km delivery radius from our studio covering the Eastern Suburbs, Inner West, and Sydney CBD. We coordinate round trips to minimise kms, and reduce our footprint.

Send same-day delivery flowers to Bellevue Hill, Bondi Junction, Bondi Beach, Bronte, Clovelly, Coogee, Darling Point, Dover Heights, Double Bay, Elizabeth Bay, Kensington, Leichhardt, Newtown, Maroubra, Marrickville, Paddington, Petersham, Point Piper, Potts Point, Randwick, Redfern, Rose Bay, Rushcutters Bay, Sydney CBD, Tamarama, Waterloo, Watsons Bay, Woollahra, Woolloomooloo, and Vaucluse and more!

Enter your delivery details at checkout to check if we offer delivery to your desired location. Send flowers today!

What is Conscious Floristry and why is it important?

Conscious floristry is a term used by Florada, in place of buzzwords like 'sustainable' or 'ethical' to describe our approach to floristry, which is guided by the seasons and local availability. We only use Australian grown flowers, we say no to carbon-heavy imports, and we minimise waste with our daily processes and packaging. We are always learning and always improving.

Over the past 30 years, modern, commercialised floristry has become increasingly damaging to the environment, which comes as a shock to a lot of people.

The environment is at the center of what we as florists do, so we aim reduce environmental impact, while spreading the word educating as many people as possible on how to make less impactful choices when sending flowers as a gift or creating flowers for an event.

Our mission is to work towards a positive change in the floral industry while providing you with the freshest seasonal flowers available!

Why should I avoid imported flowers?

Imported flowers have a much larger footprint compared to locally grown flowers:

High resource use and carbon emissions associated with imported flowers
Imported flowers pose a biosecurity risk and have been known to introduce foreign pests into Australia
Fumigation and chemical treatments are required for imported flowers to reduce biosecurity risks
Imported flowers redirect money overseas that would otherwise support local growers and our local economy
Imported flowers come in single-use plastic packaging to protect them on their long journey, for example, cut orchids and other popular tropical flowers and leaves come in boxes filled with polyester stuffing and plastic vials on every stem (also holding foreign water), creating excessive waste that ends up in landfill

Why choose Florada?

Our Aussie grown flowers are packaged in low-waste wrap
We use beautiful, recycled silk in place of polyester ribbon
We use plant-based wet packs instead of plastic
We separate our rubbish, green waste, soft plastics are disposed of properly and avoided wherever possible
We do not use floral foam
We do not used chemically preserved or dyed flowers
Same-day delivery, 6 days a week!